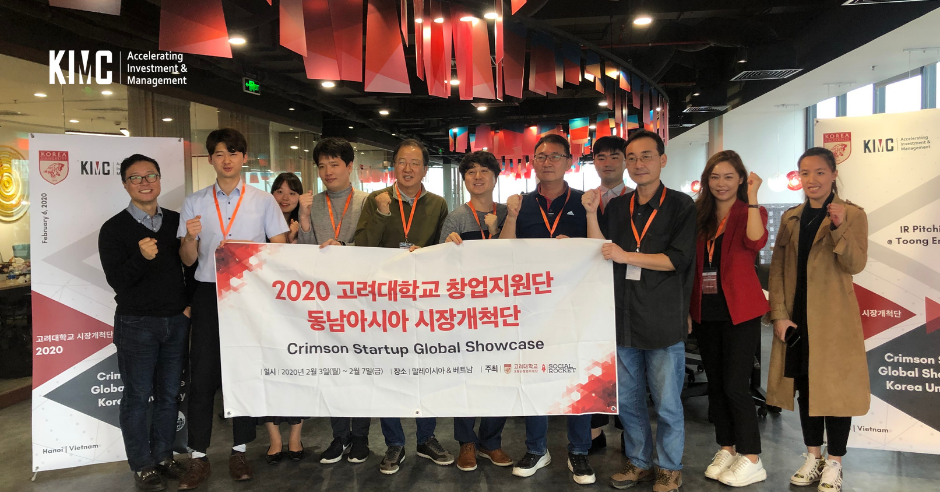 2020 Crimson Startup Global Showcase Korea University: Korean startup continues to promote market development to Vietnam
Hanoi, February 8, 2020
Starting a business is not too strange in Korea with a series of new brands being launched every year. Not only domestically, but many Korean start-ups are also investing in China, Thailand, and Vietnam.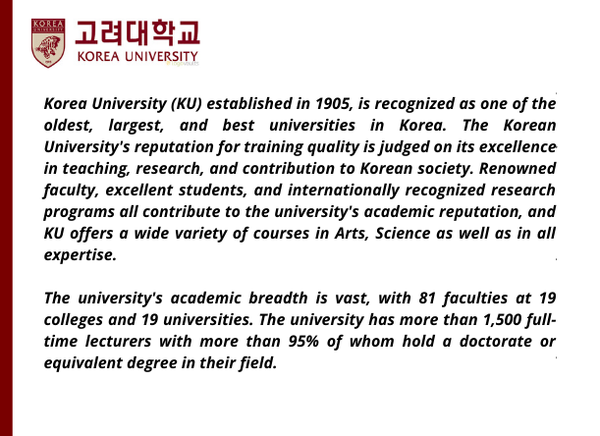 The 2020 Crimson Startup Global Showcase was recently organized by KOREA University in collaboration with KIMC in 3 days from February 5 to February 7, 2020, in Hanoi. The program has the participation of 6 Korean startups, most of which are in the stage of seeking investment and expanding the market.
In "Going Global: Why Vietnam? Why now?" presentation by Mr. Ted Kim - Director of KIMC, when accepting to promote the market into Vietnam, a developing country with a GPD growth rate of over 7% / year as currently, startups need to be able to deal with possible problems and have prepared solutions. But besides that, this is also a potential market for Korean startups to show their technological strengths. Successful foreign startups in Vietnam and around the world such as Grab, Uber, Luxstay, etc. are also mentioned as an experience lesson for new players who want to win in this potential market.
Mr. Ted Kim - Director of KIMC Group with the sharing "Going Global: Why Vietnam? Why now? " at the program
In order for startups to have a better overview of the Vietnam market as well as to evaluate whether their products are really potential in Vietnam or not, the organizers had invited Ms. Tran Thi Hong Thuy - a specialist from the National Innovation Center (Ministry of Planning and Investment), Ms. Nguyen Thu Thao - fundraising coordinator from Thinkzone Ventures, Mr. Dang Hoang Nam - investment analyst from ThinkZone Ventures and Mr. Bang Tae Su - Director of KHAITHAI Vietnam. Experts have helped startups understand the "taste" of investors, thereby drawing important notes to be prepared for raising capital. Besides, to succeed in Vietnam, they have to spend more time, effort, as well as resources and KIMC, will help them to accomplish this.
At the program, startups from KOREA University including HCLAB, YooJinBioSoft, Dreamary, AILO, Zeum Ceramic, and Ktech Global have pitched their business models to investors.
Pitching activities in front of investors exclusively for KOREA University startup
Currently, KTech Global, KHAITHAI Vietnam, and KIMC have also signed a Memorandum of Understanding on cooperation in the field of construction materials in the international market starting with Vietnam, South Korea, Philippines, and China. This is considered one of the main goals of the program: global cooperation.
In addition, in order to better understand the support for Korean startups when promoting the market to Vietnam, the program held a meeting with KICC (Korea IT Cooperation Center in Vietnam) and KSURE, Korea Financial Insurance Company. These are organizations that have a lot of support, especially in terms of technology so that Korean startups can constantly update the latest development trends and make great success in the Vietnamese market.
The signing ceremony of a memorandum of understanding between KTech Global, KHAITHAI Vietnam and KIMC
Mr. Ted Kim, CEO of KIMC, said: "The signing of cooperation or sharing activities will also help Korean startups have more opportunities to develop in Vietnam market with the most practical support. Especially in the period when Korean businesses are increasingly inclined to expand their markets to developing countries like Vietnam."
KOREA University startups and KIMC Group take photos