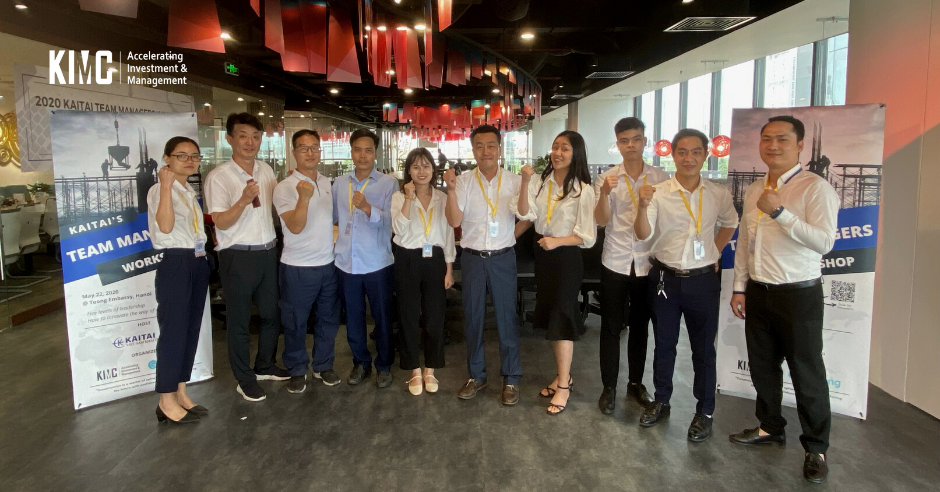 2020 KAITAI Team Managers Workshop: Strategic leadership - Successful business
Hanoi, May 22, 2020
In today's rapidly changing environment, leadership management skills have become a topic of particular concern. The success of a business requires a leader not only good at management skills but also leadership skills.
2020 KAITAI Team Managers Workshop is a program dedicated to middle and high-level managers of Khai Thai Vietnam Company (KAITAI), organized by KIMC in cooperation with Sarlang Vietnam. The goal of the training session is to explain the concept of leadership, describe the qualities of a leader, help identify appropriate leadership styles in different situations, and apply essential skills to work to improve the efficiency of the company.
Managers of Khai Thai company and Lecturer Le Viet Hung of Sarlang Vietnam
In the "360 degrees of leadership" presentation by Mr. Le Viet Hung - Business Coach from Sarlang Vietnam, to become a talented leader, besides appropriate and sustainable core ideas, leaders are required to be flexible depending on the situation, the stage of maturity of each employee, and their own psychology and style. Ken Blanchard's "Situation Leader" training solution is considered one of the most prestigious and popular leadership development solutions in the world to help leaders establish a suitable leadership style for each different situation based on two important parameters of leadership psychology, which are "Command behavior" and "Supportive behavior".
If FranklinCovey is a global organization specializing in leadership development and cultural creation, then "The 4 Essential Roles of Leadership" (also known as "Leadership Greatness") is considered FranklinCovey's most important leadership development theme, designed specifically for the leaders of leading businesses. FranklinCovey's "4 Key Roles of Leadership" consists of 4 components (also the 4 roles of a great leader): (1) Inspire Trust; (2) Create Vision; (3) Execute Strategy and (4) Coach Potential.
The presentation helped learners how to "redefine leadership", how to "re-create leadership", and how to maximize their potential to lead a successful team to realize all goals and strategies of the organization.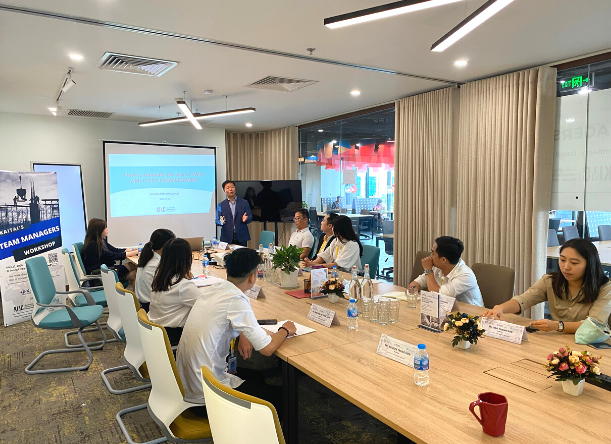 Mr. Ted Kim - Director of KIMC Group with the sharing "How to innovate the way of working with Korean style?"
According to Mr. Ted Kim - Director of KIMC, in the "How to innovate the way of work with K-style management?" presentation, Mr. Park Hang Seo is a Korean and his military-style also reflects the personality of the Korean people. Discipline in football is manifested in the proper implementation of direction on the pitch, adherence to tactics, and fighting. Koreans consider their managers as important social leaders. Respect for status and relationships in the business environment is quite high, so the role of a manager becomes a great symbol. Managers are considered representatives of the organization and their position is of great value in creating strong links in the organization structure of the company. In order for commands to be respected, etiquette, rules, and manners must be obeyed.
Thereby, the new directions, desires, and regulations of the company are also disseminated in the program. Besides, there was a promotion ceremony for 4 managers of Khai Thai Vietnam Company. This event marked an important step of KAITAI in recognizing the efforts of management levels over the past period.
Managerial promotion ceremony of Khai Thai Vietnam Company
Mr. Ted Kim, CEO of KIMC, said: "KIMC always wants to support Korean businesses in Vietnam, as well as Vietnamese businesses, who want to expand their markets to Korea. We will devote the best resources to help them understand the value of themselves and their businesses. From that point, they can break the limits set and succeed in the market in Vietnam and other countries."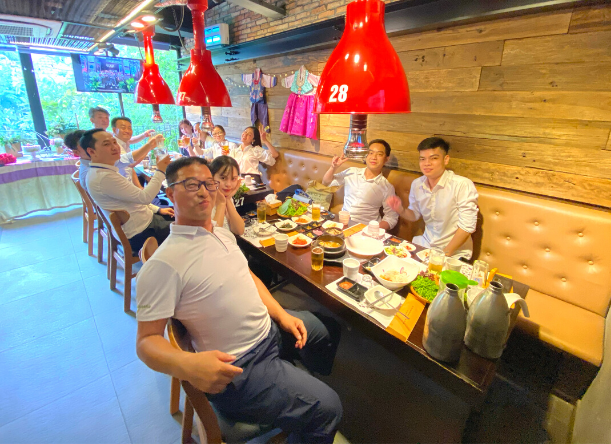 The exchange party of Khai Thai Vietnam company at Meat King restaurant