DK Ecofarm - Efforts to globalize Korean agricultural technology through the smart farm system
The world population will reach 9.7 billion by 2050, causing global agricultural production to increase by 69% between 2010 and 2050. To meet this demand, farmers and agricultural companies are turning to the Internet of Things (IoT) to analyze and increase production capabilities.
Farmers have started using some high-tech farming techniques and technologies to improve the efficiency of their daily work. For example, sensors placed in fields allow farmers to obtain a detailed map of both terrain and resources in the area, as well as variables such as soil acidity and temperature. They can also access climate forecasts to predict weather patterns in the days and weeks to come.
Farmers can use their smartphones to remotely monitor their equipment, crops, and livestock, as well as obtain statistics on their feed and livestock production. They can even use this technology to run statistical predictions for their crops and animals. And drones have become an invaluable tool for farmers to survey their lands and generate crop data. From a farmer's perspective, Smart Farms should provide farmers with added value in the form of better decision making or more efficient management and operation.
Therefore, smart agriculture represents the application of information and communication technology (ICT) to agriculture, leading to the third green revolution. Following the revolution in plant breeding and genetic engineering, this third Green Revolution is taking over the world of agriculture based on applications that combine IT solutions such as precision equipment, Internet of Things (IoT), sensors and actuators, geolocation systems, Big data, Drones, robots, etc. Smart agriculture has real potential to provide a more efficient and sustainable agricultural production, based on a more accurate and efficient approach to resources.
Technological solutions such as smart farm systems are also created to solve problems such as complicated climate change, the need to change farming techniques, and improve the technology. The application of technology to cultivation and animal husbandry will increase the efficiency of the value chain of Vietnamese agricultural products, maximizing efficiency.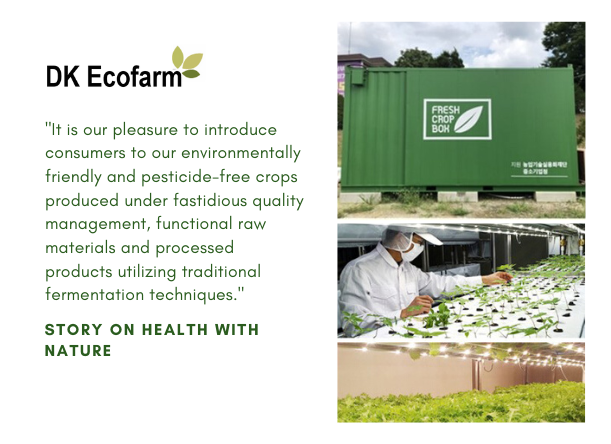 DK Ecofarm - Korea's agricultural startup is one of the leading businesses providing smart agricultural solutions based on IoT technology and biofuel development. DK Ecofarm is expanding specific hydroponic technologies from ginseng to other special crops. In addition, the company is interested in developing highly functional biological materials that apply to beauty, healthy foods, and pharmaceuticals from the crops produced at its facility. In order to strengthen the business platform, DK Ecofarm will focus on special crops grown in specialized hydroponic systems and specialized biological materials development.
Source: dkecofarm.com
The essence of Smart Farm comes from the technical ability to create good quality crops. To do this, engineering design and application are essential, based on the physiological characteristics (blight/growth/composition) of the crop. DK-Ecofarm pursues technical partnerships for the overall Smart Farm production system through the transfer of processing technology and the requirement for optimal smart farm construction & production from farms and farms. The agricultural delegation, based on production techniques established through accumulated farming experience and research collaboration with research institutions.
DK Ecofarm has established many techniques for growing vegetables over seven years of research and development of factory farms in different fields and implemented the safety solution capabilities specific to hydroponic ginseng cultivation. To grow healthy food in a clean environment, DK Ecofarm always aims to be environmentally friendly. In addition, the company is trying to ensure a globally competitive difference through the selection and focus on special crop cultivation technology.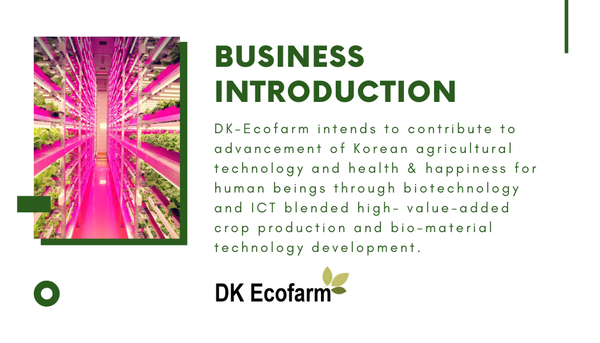 DK-Ecofarm is striving to globalize Korean agricultural technology with the aim of stably providing healthy agricultural products through advanced technology, using smart agriculture based on information technology, partnering with farmer households based on consistent research and development over the past 10 years in the field of environmental management for smart agricultural growth.