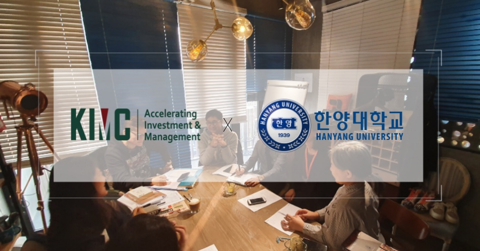 KIMC continues to cooperate with Hanyang University in "2020 Hanyang University Global Startup" program
KIMC is honored to be the connection between potential startups of Hanyang University, South Korea, and experts in different domestic and foreign fields.
After the certain successes of the "2019 Hanyang University Global Startup Internship" program, KIMC continues to be selected as the support unit to connect Hanyang University's startup projects with mentors in South East Asia. There are 10 projects that participate in the program, most of them invest in developing software, electronic platforms, and applying artificial intelligence (AI) in many different fields. Among those 10, there are 3 projects focusing on manufacturing and distributing household products with new innovative features.
The fact that most startups focus on AI development shows the potential development in Southeast Asian countries in general and Vietnam in particular. The typical projects related to electronic and artificial intelligence applications are Naugo - Ocean shipping application, AIDoop - AI-based smart parking, ... Not only limited their creativity in the field of electronic platforms, but Kong Ventures also offers the idea of applying AI to customize children's food to meet different nutritional requirements of each child.
Other startups also show their creativity when they come up with ideas of unique new features capable of bringing a great experience for customers. The WOONerf project introduces eco-friendly air purifiers combining with plan pots. This product is based on the idea of ​​not only providing a clean air source but also helping users to feel relaxed, close to nature. In addition, the ESTUEN startup project intends to produce and enter the Vietnamese market with an improved bottle design that enhances safety and is suitable for the infant's digestive system.
Product idea of the WOONerf project
Cooperation with mentors provides entrepreneurs with clear insights and orientation when they approach the Vietnamese market - where culture and consumer behavior is totally different from the Korean market. According to Mr. Pham Duy Hieu - Vice Chairman of the Vietnam Science and Technology Entrepreneurship Fund (SVF), at the early stage of the startup process, despite all startups are always extremely passionate, being shocked by the gap between the beliefs about the success of the project and the reality is inevitable, especially during making decision process. It is easy for enterprises to lose their direction and difficult to choose the most appropriate and effective direction. This is when the mentors' support is essential.
When investing in the Vietnamese market, working with mentors helps startups observe the market as well as assess their product potential. The advisors will help businesses understand the taste of investors and important notes to be able to successfully raise capital. Besides, Korean startups can also understand and make the most accurate and effective distribution of resources, finance, and time.
Understanding the importance of mentors in the process of building the foundations of potential startups, KIMC always strives to connect Vietnamese - Korean students, young people who love to start a business with experts and directors of renowned enterprises in Vietnam. In particular, with the cooperation between KIMC and VMI - the largest network of startup advisors in Vietnam, the mentor network will not only be limited to the national scale of Vietnam but also expand to South Korea as well as other markets.
In fact, due to the impact of the COVID-19 epidemic, the need to digitize and convert to the digital economy, 4.0 technologies have become essential. Thanks to the measures to online many activities, the consulting process between businesses and advisors are still going smoothly. This alternative helps Korean businesses to promptly update information in the Vietnamese market continuously while ensuring planned training courses are carried out throughout.
An online consultation between ESTUEN project and consultant Tran Cam Tu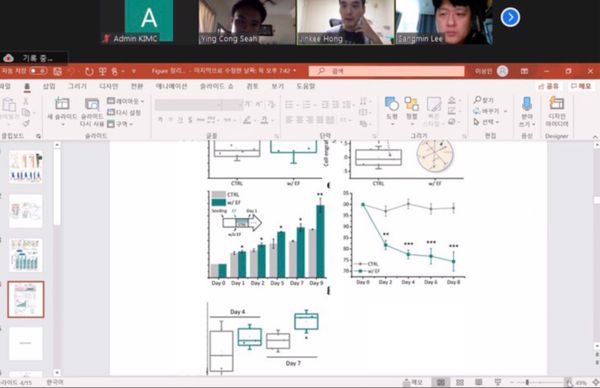 An online consultation session between Straightforward Engineering project and consultant Ying Cong Seah
In the process of launching and developing, startup projects have been supported by in-depth consultation sessions of a team of experts with many years of professional experience as well as management. With the guidance of experienced mentors, KIMC believes that startup ideas will be successful when they launch in targeted markets, especially Vietnam.