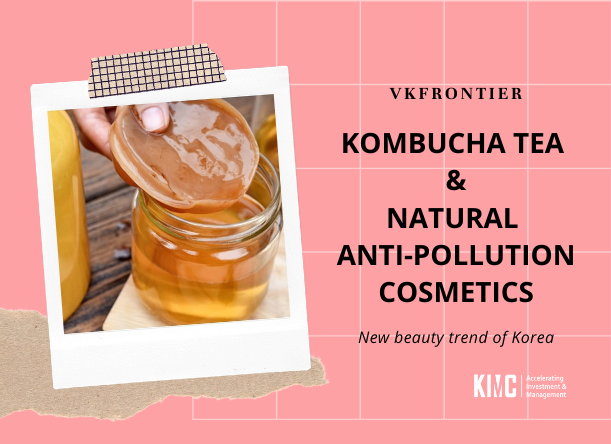 Kombucha tea and natural anti-pollution cosmetics - New beauty trend of Korea
Thanks to the influence of Hallyu (Korean wave), the business areas of Korean companies in Vietnam such as fashion, skincare, hairdressing, makeup, cosmetic surgery, and other beauty-related fields are in the process of continuous growth with many products receiving the attention of Vietnamese people. Among them, natural anti-pollution cosmetic products and organic Kombucha tea are included.
Natural cosmetics are no longer a strange concept in the Vietnamese market. Skincare products with natural ingredients are usually benign, suitable for sensitive skin, and do not cause side effects when used in the long term. Therefore, an increasing number of customers choose natural cosmetics for their skincare process. According to ANT Consulting, in Vietnam, imported cosmetics account for more than 90%, especially Korean cosmetics, which are holding more than 30% market share. In terms of the cosmetic import scale, Korea is one of the most imported cosmetic countries in Vietnam and it is expected that Korean cosmetics will have fierce competition with Japanese cosmetics in terms of popularity.
In Vietnam, the increase in social activities of women and the expanding middle-class has led to a rapid increase in consumption, especially the changing perception of safety leading to a change in needs of high-class cosmetic products and functional products of organic origin, so the level of interest in natural materials and environment friendliness increased. In particular, in the whirlwind of K-Beauty, businesses in Korea have been promoted to develop, reaching the 6th position in exporting to the world after 17 years, ranking 9th in market size, and looking forward to growing stronger.
With the trend of soaring demand for products to meet the increasingly unstable urban environment, "anti-pollution" was chosen as the main keyword to develop new cosmetic products, along with "natural" "and "organic". Like Korea, in Vietnam, due to air pollution, ultraviolet rays, and fine dust, consumer interest in this type of cosmetic has increased significantly, especially high at the age of 20. According to Metro Media 2019, anti-pollution products are currently receiving great attention, about more than 50%. In addition, about 42% of consumers intend to buy anti-pollution cosmetics and the expectation of products is quite high. Consumers have doubts about the effectiveness of the products, so an effective advertising marketing strategy is needed.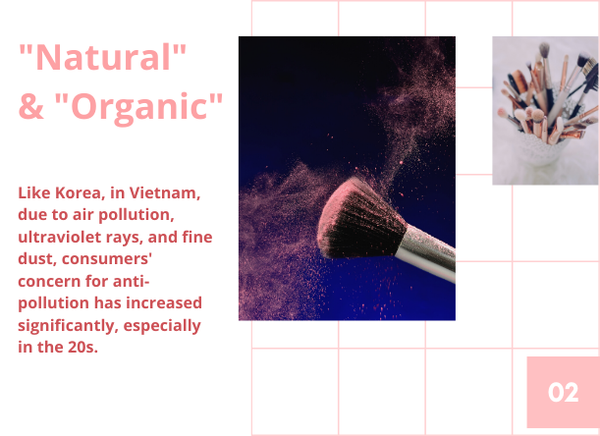 In the Vietnamese market, Korean cosmetics are so popular that when it comes to cosmetics, 48% of people will think of Korea, especially the Hallyu wave has doubled that popularity. At the same time, due to environmental pollution and climate change, the demand for products from natural materials with the anti-pollution effect of Vietnamese women is increasing. Whitening cosmetics have long been famous due to the motorbike culture, so the skin is easily affected by ultraviolet rays.
However, the products of Korean companies have similar features, for this reason, many companies have failed to enter Vietnam. In addition, other cosmetic companies have not carefully analyzed the needs of customers, superficially to grasp the needs of Vietnamese people with foreign cosmetics; it is impossible to localize the product without building a customer database and lacking products suitable to the climatic environment and skin characteristics of Southeast Asia.
Recognizing these problems, the upcoming VKFrontier company will launch the organic cosmetic products and Kombucha tea in the Korean and Vietnamese markets with competitive prices and unique marketing capabilities thanks to careful market research. The company currently operates in 5 main areas:
Natural anti-pollution cosmetics suitable for the target market

Domestic and foreign development of natural biological materials

Multi-functional organic Kombucha tea suitable for the target market

Beauty academy in Vietnam

On-Offline marketing services in Vietnam
One of the outstanding products of VKFrontier is Kombucha tea - a new generation healthy fermented beverage. In the beverage industry, the Kombucha market is expected to grow rapidly each year to match the health and well-being trends. Global companies are also trying to gain market share in the Kombucha market soon. Particularly the hashtag # 콤 부차 (#Kombucha) in Korea has more than 13,000 searches, the English name #Kombucha has more than 1.5 million times; This is also a famous product for those who follow the diet. In particular, online sales on Gmarket increased 300% over the previous year.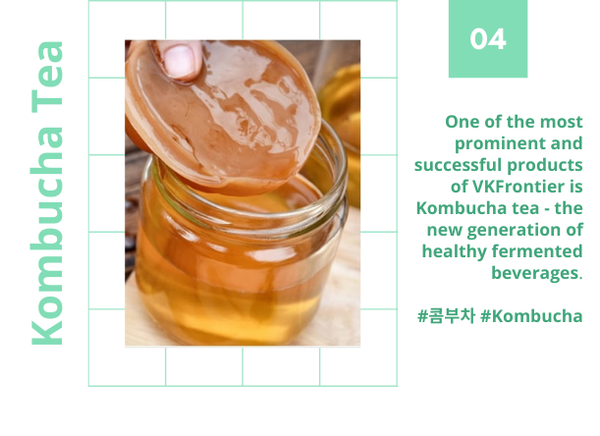 For VKFrontier, the secret of success is to import a stable source of raw materials - organic tea leaf extract from NTEA Group of Vietnam, then develop them to produce Kombucha products. Along with that, VKFrontier maintains a supply of multi-functional natural cosmetics that properly reflect the needs of the Vietnamese market, thereby ensuring domestic competitiveness. In addition, the company also deployed and maintained promoting products through Vietnamese channels and other media; showroom management, and product experience at local partners' showrooms.