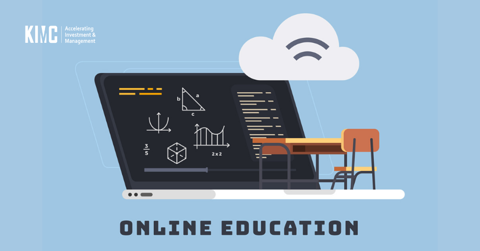 Online education - A new trend in the field of education improving the competitiveness of employees
E-learning is a method of learning that has been popularly applied in many countries around the world such as the United States, Japan, Korea, Singapore, etc. In the US, millions of high school students enroll in E-learning, and in many states of this country, before being recognized graduate, each student must register to study certain subjects in online classes. In Korea, the E-learning method reduces the cost of tutoring at exam preparation centers, thereby contributing to equality in education.
Sarlang Korea
Currently, Vietnam and Korea still maintain the leading important partnership in Southeast Asia, with the amount of investment capital in Vietnam in the 4th position. Many Korean corporations and companies appeared in Vietnam in recent years, typically Samsung, LG Electronics, Lotte with huge capital, and many branches across the provinces and cities of the country. Therefore, the demand for recruiting employees with Korean-speaking ability and qualifications is increasing.
Moreover, the Korean cultural wave is currently developing strongly in Vietnam. Mr. Park Nark Jong, Director of Korean Cultural Center in Vietnam, shared at "Korea-ASEAN Sejong Hakdang Forum" held on November 29, at Daewoo Hotel, Hanoi: "Vietnam is a country with demand for learning Korean is the largest among ASEAN countries but is having difficulty in finding and managing Korean language teachers. "
Thus, it can be seen that the Vietnamese market has a great demand for this foreign language subject, but there are still many challenges, especially in terms of human resources, especially lecturers for this subject.
In response to that question, Sarlang Korea has launched an online Korean learning platform, overcoming the disadvantages of traditional learning methods, and effectively managing the program and faculty. Starting its operation in November 2016, up to now, Sarlang Korea has become a prestigious place to learn Korean for students, pupils, and employees working in an international environment in many countries worldwide.
Having the largest network of lecturers in Korea with over 350 lecturers divided into different levels based on qualifications and experience, Sarlang ensures that students can choose not only the curriculum but also teachers are suitable for their level and interests.
Sarang offers a wide range of programs with a variety of learning styles: one-on-one online learning with optional lecturers, multi-student group online classes, or available online lesson plans according to each level. The curriculum is copyrighted directly by the company.
In addition to providing services to individuals who want to learn Korean, Sarang Korea also provides online education solutions for academia, universities, businesses, and organizations that need to train Korean-speaking human resources. With the expanding trend of the Korean cultural wave, as well as the level of development and integration of the Korean economy, learning Korean will create a great competitive advantage for each individual in the labor market.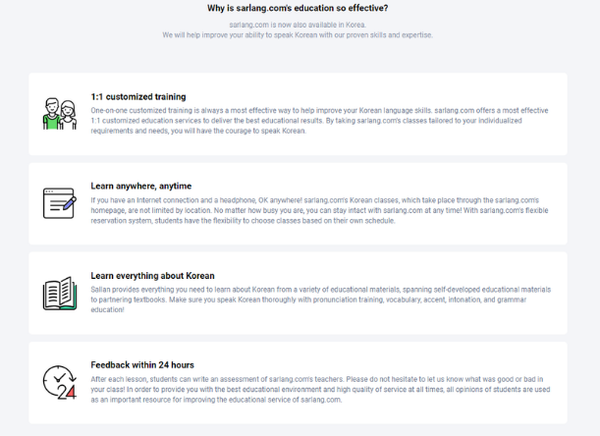 In particular, Sarlang is currently offering promotional packages for each course, helping learners more accessible to this foreign language subject.
Elice
In recent years, Vietnam has been attracting more and more technology companies in the field of product development; the startup wave is promoted and transforms some traditional businesses to digital and e-commerce in many fields such as tourism, agriculture, real estate, etc. Therefore, the demand for human resources in the Information Technology field is increasing.
In 2019, the demand for human resources in this field has increased by 56%, this figure is equivalent to 62,829 jobs, an increase of approximately 5 times compared to the demand in 2015, according to the latest Vietnam IT Profile report of a human resources surveying company. The unit also pointed out that recruitment demand will continue to increase sharply in the 2019-2021 period, causing a shortage of about 90,000 IT workers this year and about 190,000 people by 2021.

Recruitment needs of the IT industry each year - Source: TopDev
The demand of the labor market opens up new opportunities for workers, however, is also a challenge, when the demand is so great that the quality and quantity of labor in this field are not high. Thus, it can be seen that the career opportunities opening to people with knowledge of information technology are huge. However, the computer science education industry is facing many difficulties, due to three main reasons: first, the costs of facilities and data; second, the relatively limited number of qualified and prestigious lecturers in this field, making it difficult for students to receive thorough evaluation and feedback.
To meet the needs of the market, Elice offers all courses related to programming. As an interactive online learning platform based on artificial intelligence (AI) data models, Elice supports students to overcome the barriers of traditional education with online classes. There is a flexible schedule, the system receives and processes information and feedback through chat rooms for each student and the artificial intelligence application data management system monitors the user's progress.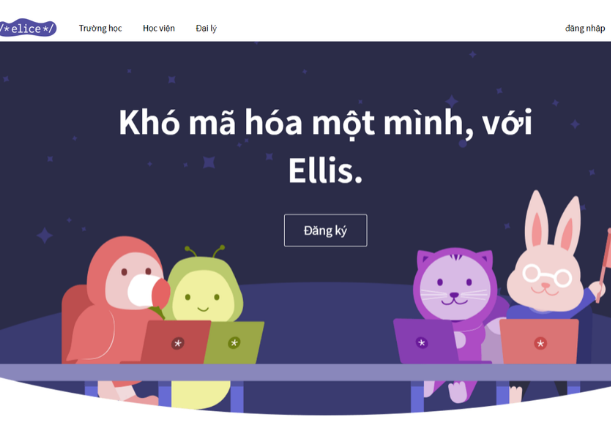 Statistics after more than 2 years of operation since 2018 of Elice show that the completion rate of students taking courses on Elice's online platform is quite high, proving Elice's competitiveness compared to with platforms that have appeared before in the market.
Currently, Elice is heading to the Vietnam market, the company expects to develop more strongly in the near future.