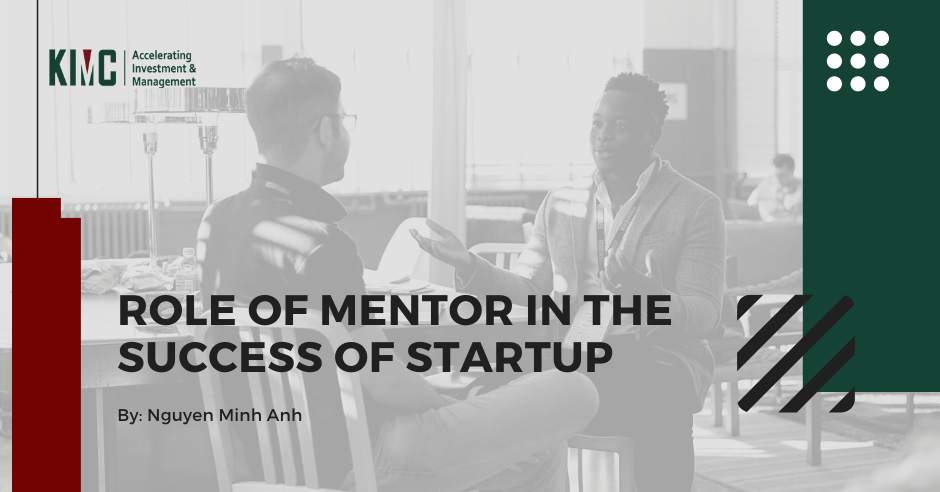 Role of Mentor in the success of Startup
1. Mentor, who are they?
Mentoring (mentor) represents a developing relationship in which the mentor (mentor) supervises and supports the development of the mentee's business/career through mentoring, counseling, psychological support, or sponsorship activities.
Mentoring involves supporting someone to grow in both work and personal skills. Mentors and mentees achieve this goal by developing connections based on mutual trust and respect.
The mentor is not the technical support for startups, but the people who inspire, motivate and stimulate trust in startups, stimulate startups to move forward in their business.
2. Why does Startup need a Mentor?
In the early stages of starting a business, you often hesitate to quit your current job and start a business because you are uncertain about the path you choose.
You need someone to share your confusing thoughts with, but you don't need a counselor to tell you which direction to choose. Rather, you need someone who can understand your hesitation and help you visualize the good direction - a Mentor.
In the next stage of running a business, you also need a Mentor as challenges began to arise - from the ability to sell goods, resolve sales complaints, capital, and group conflicts ... - hindering the development of your startup business.
Even when the business thrives, the perpetual question will be how to continue to grow stronger, be more sustainable, or be more productive in life. Such disorientation also indicates that you need a Mentor.
Best known for her TV show, Oprah Winfrey has been guided by the famous poet Maya Angelou. "She has always been by my side, leading me through some of the most important years in my life." Winfrey added: "Mentors play an important role and I don't think someone may ever succeed in the world without an instructor of some kind."
Or another example: Steve Jobs, the former CEO of Apple Inc. served as a mentor for Mark Zuckerberg, CEO of Facebook. The two developed a relationship during the early days of Facebook's establishment and met regularly to discuss management and business for the company. When Jobs died in the fall of 2011, Zuckerberg posted on his Facebook page: "Steve, thank you for being my teacher and friend. Thanks for showing me what one build can change the world. I will always miss you ".
Entrepreneurship needs a Mentor because you really need someone with you to guide you, motivate you, a friend who never judges when you make a mistake, someone who only asks questions to guide you back to your life and career.
3. How to find a good mentor?
- Sketch a brief portrait of your ideal mentor
What are the mentors' personalities and strengths that you like and want to learn? If you already know the person, then list the points they made you fall for them.
Sketching the portrait is of the same importance as identifying the right customer segment.
- Determining your own self-worth
The mentor needs facts to give you the right advice. They also need to see potential in you too. Therefore, you need to know your strengths and weaknesses to honestly share with them.
- Determine where a mentor can be found
You need to know where mentors usually appear (if on the internet, which group, in real life, in which community), then find a way to join those organizations, try to leave a positive impression if you have the opportunity to meet in person.
- Follow the mentor's personal Facebook page
Keeping track of the mentor's social activities helps you stay in touch with the mentor's shared information. Setting a "buddy" or "preview" mode with the mentor will help you always be informed when he/she shares any information. You will have the opportunity to comment first, like first to create sympathy with the mentor.
- Interact as much as possible
Do not hesitate to step forward and greet your mentor when given the opportunity. However, do it thoughtfully, and do not appear when they are not ready.
- Asking for advice
All the time possible, but don't be overwhelmed, ask the mentor for advice on matters of their forte.
- Enthusiastic mentor support
Show your loyalty with practical, sincere actions. Once you lose trust, all of your efforts mean nothing.