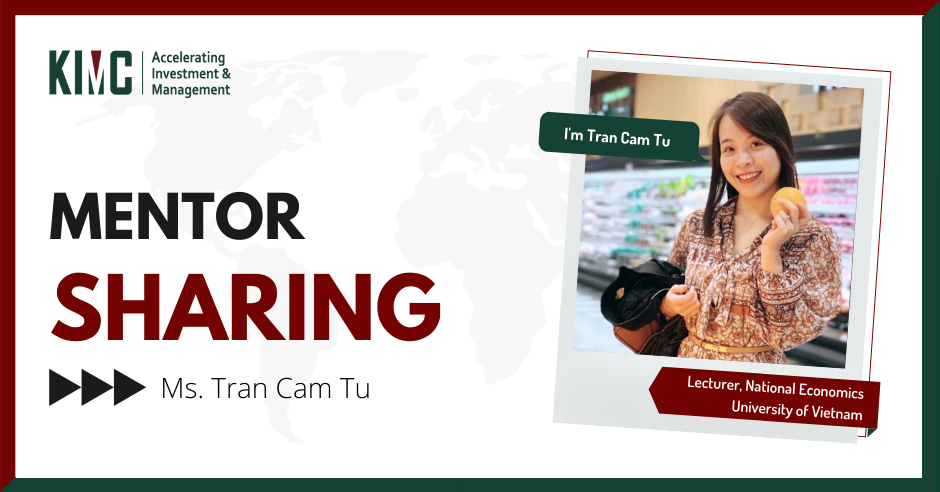 Sharing from mentor Ms. Tran Cam Tu about the project "2020 Contactless Global Accelerating"
In the project of 2020 Contactless Global Accelerating co-organized with 5 top Korean universities, KIMC was honored to have the cooperation from mentor Tran Cam Tu - lecturer in Business Administration of the National Economics University.
Besides her in-depth knowledge and years of experience in consumer behavior studies, human resource management, and multicultural management, Ms. Tu is also one of the youngest lecturers at National Economics University. Carrying positive energy and friendliness, she always puts efforts to convey to students inspirational lectures. Ms. Tu also has experienced a mentor for startup ideas for students in Hanoi.
KIMC had an interview with Ms. Tu about her career path as well as her experiences when working with Korean startups.
* How do you feel about being a mentor for KIMC in general and HYU in particular?
This is a new experience for me because I have the opportunity to work with Korean businesses and support startups teams so that they can enter the Vietnam market more conveniently, I also learn a lot about the Korean working culture. In addition, the KIMC team takes care and support mentors very well, from the Director to the other employees.
* You have completed a Master course in the UK. Can you share the reason why you choose to study in the UK instead of other countries?
The first reason is that I have a scholarship. Next, because I love British culture in particular and European countries in general, I was very excited about this experience. To talk about memories, there are really too many memories that I cannot fully talk about. However, the most memorable experience during my time abroad is probably going to different museums every weekend, and museums in the UK are always known for diversity and historic.
* Why did you decide to be a lecturer at NEU?
There are 3 things that made me decide to do this job. First of all, because I love teaching and the lessons are rewarding and inspiring. The next reason is that National Economics University is the school that I have been with for 4 years. The university is a good educational institution with a professional, open-minded environment and innovations happen every day. I think even though I've been in class for many years, and have experienced teaching a lot of students, every time before entering class, especially the first lecture, I always feel nervous, anxious, and a little excitement.
* Can you share your thoughts on the startup trends in Vietnam?
The rising trend of entrepreneurship is also a bright spot in recent years. In Vietnam, due to the huge support from family, and the pressure on the cost of living is not too high, many people have the opportunity to start a business more without having to compromise too many things. However, after working with many start-up owners for a while, it can be seen that they are not really realistic and there are many people who tend to exaggerate what they can do, a bit arrogant and subjective. Therefore, when those startup owners become KOLs or startup role models for young people, it can lead to young people having the illusion and reality of false preparation for their startup.

* What is your assessment of the startup ideas of the students that you have ever taught?
Ideas are available to everyone, but from idea to implementation is often unsuccessful. Therefore, your ideas should be surveyed and consulted by more people, not only family members and friends, but also by strangers and potential customers. For entrepreneurial students, I want to share a piece of advice that is always knowing who you are and understanding customers' pain points. If you offer a product/service that doesn't solve any of the problems for your current customer, it's best not to.
* Thank you very much for sharing and hope you will continue to work with KIMC in future projects!