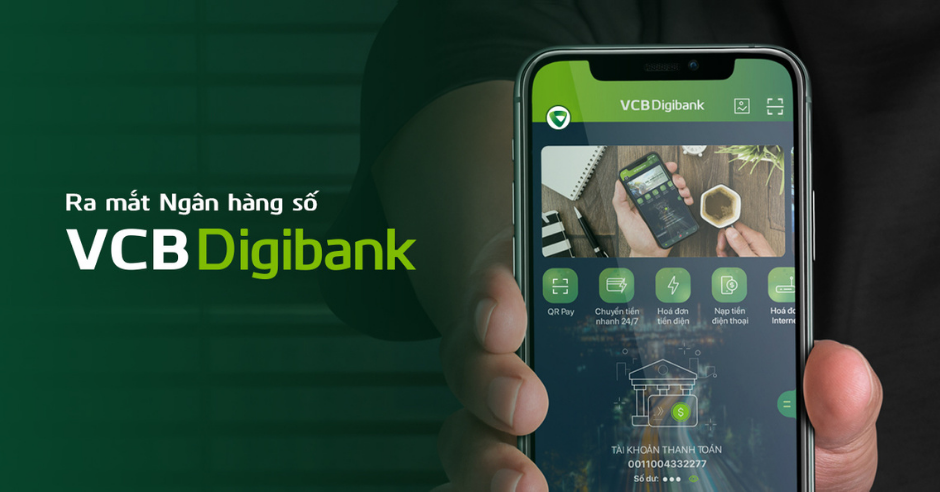 [VCB Digibank] Digital banking - Indispensable development trend of the technology era
In the booming era of technology 4.0, digital banking is considered an inevitable trend not only in Vietnam but also around the world. So what is digital banking? What is the similarity between Digital banking and Electronic banking? Which banks have been and will own digital banking in the future?
What is digital banking? What features and benefits does digital banking have?
Digital Banking (Digital Banking) is a place where users can perform all normal transactions via an online connection from the Internet. Through the digitalization of operations and services, digital banking minimizes related papers, saves users maximum time and effort, thereby helping customers to have their work to be more effective.
With digital banking, you can use all the features like:
- Pay the bill.
- Save money.
- Financial management for individuals or businesses.
- Money transfer inside and outside the system, international money transfer.
- Bank loan.
- Join a number of financial products.
Thanks to the above features, the benefits of digital banking are also extremely outstanding:
- Cost savings: Digital banking helps banks cut costs significantly compared to using manual labor. In the future, the digital platform will help analyze and process data quickly to meet the needs of the market.
- Improving business efficiency: Not only a tool for interacting with customers, but digital banking also provides methods to help handle internal functions effectively.
- Creating high accuracy: Digital banking possesses an outstanding technology platform, thanks to which operations such as calculating, processing, and recording transaction information are conducted quickly, ensuring high accuracy.
- Facilitating better security: When making any transaction on a bank account, customers will immediately receive an OTP via phone or email. This OTP range is completely secured by digital banks so customers can be completely assured.
Distinguishing digital banking and electronic banking
These are all forms of using the internet online with the advantages of being fast and extremely convenient. Therefore, the majority of users still do not clearly distinguish these two concepts.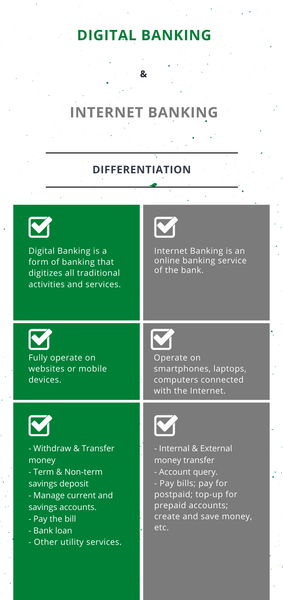 Vietcombank launched a brand new digital banking service, VCB Digibank
Source: Vietcombank
As part of the overall digital transformation strategy that is being strongly implemented, in order to provide customers with simple and new experiences when performing transactions on digital channels, Vietcombank has merged the two platforms which are Internet Banking & Mobile Banking, and launch a brand new VCB Digibank digital banking service from July 16, 2020.
This service will bring customers completely new experiences:
- Easily perform digital transactions at any transaction channel, with any device.
- Simplify login and agree on a single online transaction limit for customers.
- Integrating many high-end security technologies.
- Transaction limit up to VND 03 billion / transaction.
- Special offer at the time of launch.
Source: Vietcombank
According to Mr. Dao Minh Tuan - Deputy General Director of Vietcombank, security is always a very important factor in the product development process in the banking sector. Vietcombank always uses the best security solutions for VCBDigibank including passwords and biometric methods (fingerprints and facial recognition). In addition, Vietcombank also applies the Push Authentication method to increase security in customer identity.
To create its own uniqueness, VCBDigibank focuses mainly on personalization of the application by allowing customers to use personal photos as avatars and to choose wallpapers (available) according to their personalities. Customers can also choose their favorite features for the first display, which is convenient to use. The trendy Dark Mode helps to save battery power and filter blue light, protecting the user's eyes during application operations. Other features such as bill payment, online savings, phone top-up, QR Code payment, flight booking, hotel, movie, or online shopping are also upgraded to suit the increasing demands of users. All have created seamless and consistent experiences for customers.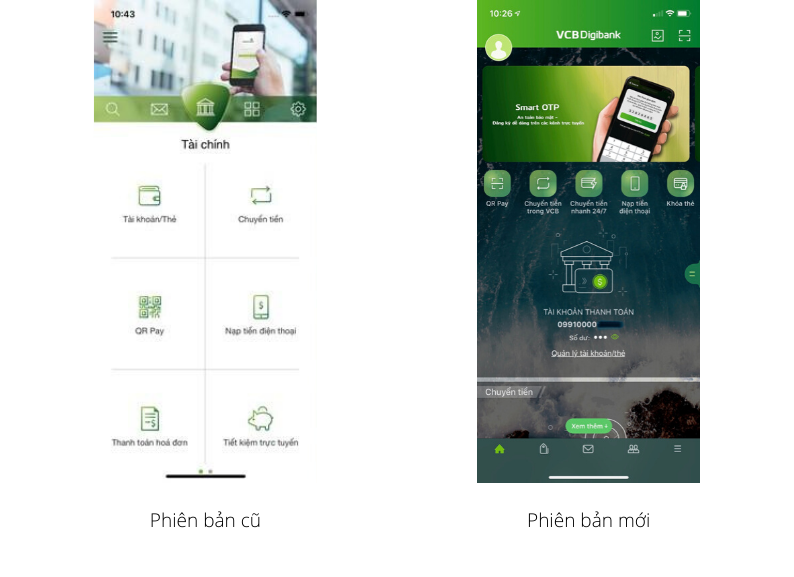 In addition, customers can easily switch from existing Mobile Banking and Internet Banking services to Digital Banking with simple steps. For new customers, to register to use the service, customers can go to all Vietcombank transaction offices nationwide. For existing customers, they just need to update the new version of the VCB application on their mobile phone or visit the official website https//:vcbdigibank.vietcombank.com.vn. Furthermore, to celebrate the launch of digital banking VCBDigibank, Vietcombank applies a policy of free transfer transactions within Vietcombank for 1 month from the date of the application launch.